By Meagan Thompson, The Montana Standard, July 1 2020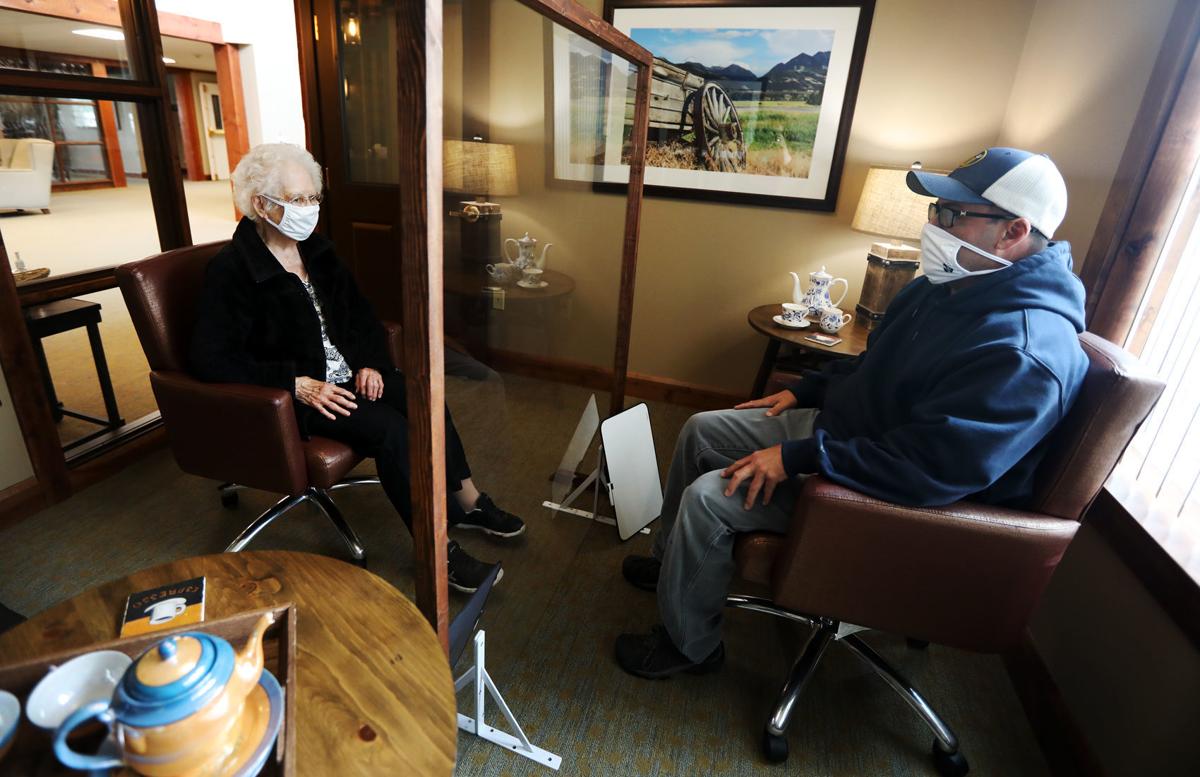 Some Butte nursing homes and assisted living facilities are now allowing visitations during the COVID-19 pandemic.
Gov. Steve Bullock's directive last Thursday rolled back visitor regulations at assisted living facilities and nursing homes — under strict guidelines.
Most facilities closed off visitations earlier this year amid concerns over the spread of COVID-19. Until last week, visiting parents, grandparents or friends at such facilities had been nearly impossible.
According to the governor's updated directive, senior and assisted living facilities may allow visitors after giving notice to residents and family members.
Facilities need to follow federal guidelines from the Centers for Medicare, Medicaid Services and the Centers for Disease Control and Prevention, including strict screening, physical distancing, sanitation, hygiene, testing, and other infection control protocols.
Lauren Kippen, executive director of The Springs at Butte, said people can call in advance to schedule a visit with a resident, as long as they follow the facility's visitation guidelines.
Each resident at The Springs can invite up to two visitors.
"Visitors are allowed only in one area, and they have to wear a mask, answer screening questions, get their temperatures taken," Kippen said.
Once they pass the screening, visitors can then visit their loved ones through the facility's "looking glass," she said. The concept is a frame of Plexiglas that allows families to visit face-to-face and is sanitized between each visit.
"We've had quite a bit of visitors, so we ask that people schedule in advance," Kippen said.
The Big Sky Senior Living on Waterford Way in Butte is also allowing visitations by appointment only, according to an announcement on the facility's website.
"We realize that in the midst of a pandemic it is still important for family and friends to visit and socialize," Lauri Yelenich, administrator at Big Sky Senior Living, wrote in the announcement. "With that in mind we have set up visitation on the outside courtyard on the East Side of the building for Assisted and Retirement Residents and in the Memory Care Courtyard for Memory Care Residents."
Residents at Big Sky are allowed up to four visitors, who will need to be screened at the front entrance before a visit. The screen includes a temperature check and answering questions about possible symptoms and possible exposure.
Visitors are then required to do a 20-second hand hygiene with an alcohol-based rub, wear a mask, maintain social distancing and avoid any touching.
Janelle Hildreth, administrator at BeeHive Homes in Butte, said that the facility hasn't lifted its visitor restrictions yet but staff are in the process of working on a "game plan" to allow visitations.
Hildreth said the facility is working with the Butte-Silver Bow Health Department and the Southwest Montana Aging and Disability Services to develop a visitation plan.
"This county does a great job in bringing the community together to help each other," Hildreth said. "Our local health department has been on the ball and they've been working with all the assisted living facilities and nursing homes to get us all on the same page."
Karen Sullivan, Butte-Silver Bow health officer, said the health department will be hosting twice-monthly meetings with administrators from nursing homes, assisted living, home health and hospice facilities.